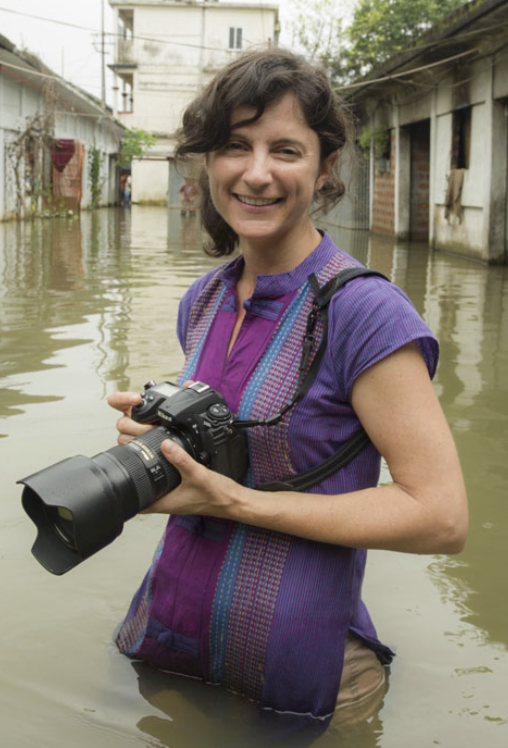 Ami Vitale is a US Nikon Ambassador and National Geographic photographer, writer, speaker and documentary filmmaker. She has traveled to more than 100 countries, documenting the heartbreaking realities of war and witnessing the inspiring power of individuals making a difference.
Throughout the years, Ami has lived in mud huts and war zones, contracted malaria, and donned a panda suit— keeping true to her belief in the importance of "living the story." Her award-winning work illuminates the unsung heroes and communities working to protect wildlife and finding harmony in our natural world.
She has been named one of the most influential conservation photographers of her generation and is Conservation International's Lui-Walton Innovators Fellow. In 2022, she was awarded with the prestigious prizes from the Missouri Honor Medal for Distinguished Service and the Lucie Humanitarian Award. Instyle Magazine named Ami one of fifty Badass Women, a series celebrating women who show up, speak up and get things done. She appeared alongside a group of incredible women including Jane Goodall, Christiane Amanpour and Ruth Bader Ginsburg. She has also been named Magazine photographer of the year in the International Photographer of the Year award, received the Daniel Pearl for Outstanding Journalism award and is a six-time recipient of World Press Photos. She is the author of the best-selling book, Panda Love, on the secret lives of pandas.
Ami is also the founder and Executive Director of the non-profit Vital Impacts which uses art to empower and engage youth through the arts to become activists and influence their peers in the world. She lectures around the world for the National Geographic LIVE series, and will be featured on the National Geographic Channel Explorer tv series in 2023. Based in Montana, she can be reached at ami@amivitale.com.